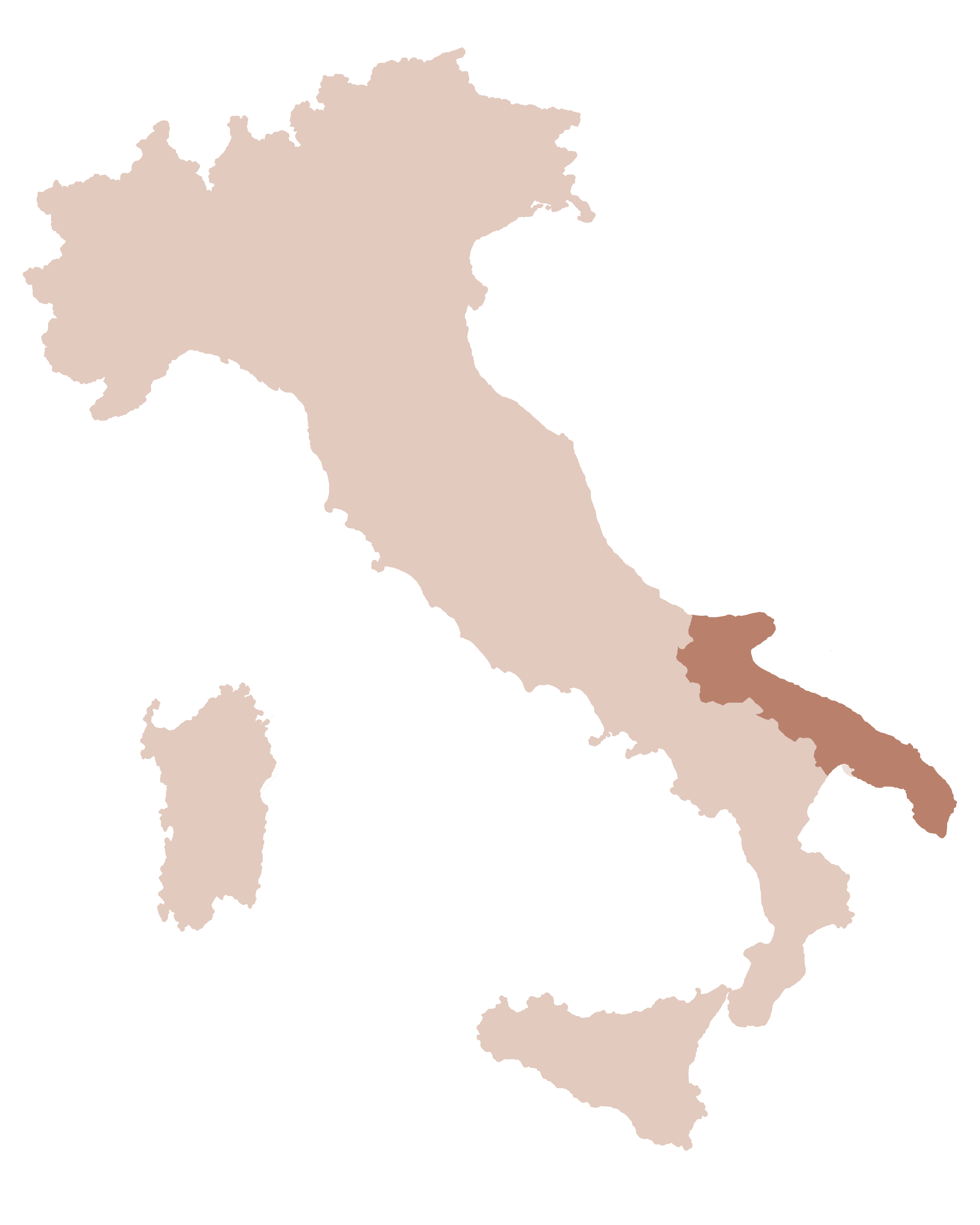 WELCOME TO PUGLIA!
Welcome to Puglia, Italy's south-easternmost region, the heel of the boot, located in the heart of the Mediterranean. Many civilizations have left an imprint on Puglia's #history resulting in a unique mix of enchanting architectural styles and a rich cultural heritage of UNESCO sites and hidden out-of-time hamlets. Culture lovers, please see our section "We are Magnificent in Puglia".
Puglia is a long, narrow peninsula, bordered by two #seas, the Ionian (west coast) and Adriatic (east coast), with more than 800 km of coastline, from steep cliffs overlooking colourful sea bottoms to golden beaches sloping into crystal clear waters. Sea lovers should check out our section "We are Sea-nsational in Puglia".
The #Nature in Puglia is spectacular all year-round with charming landscapes composed of beautiful valleys, gentle hills covered with olive trees, vineyards, mediterranean forests and vegetation, as well as some surprising "gravine" (ravines). Nature lovers should check out our section "We are Active in Puglia".
Puglia's #Culinarytraditions have been passed down through generations making it the perfect place to experience a multitude of culinary pleasures. Fresh fruits and vegetables, durum bread and pasta, chicken, seafood, olive oil and regional wines, are all staples of our healthy Mediterranean diet. Food lovers should check out our two sections "We are Gourmet in Puglia" and "We are Tasty in Puglia".
Puglia is considered a "land of craftsmen", where many #ancientcrafts are still made today. From tradition to innovation, Puglia is full of stories and ideas from local modern artists that combine contemporary design with traditional materials. Contemporary art lovers should check out our section "We are Creative in Puglia".
These are just some of the reasons Puglia is such a perfect holiday destination, where you can enjoy some truly unforgettable experiences.
So much to explore, so much beauty to contemplate and so many things to do!

Booking your journey with Tourango is the best way to experience Puglia in style!

WHERE TO GO - DIFFERENT AREAS IN PUGLIA
As a long and narrow peninsula, Puglia is divided into 6 different areas
Salento
In the green peninsula between two seas, the sun shines all year-round. The charm of Baroque art, Mediterranean cuisine and sincere hospitality welcome you in an open-air theatre. Main cities are: Lecce, Otranto, Gallipoli, the Grecia Salentina, Nardò, Galatina, Santa Maria di Leuca, Brindisi, etc.
---
BEST TIME TO VISIT PUGLIA
The sublime Mediterranean climate makes Puglia an excellent holiday destination for most of the year, with mild winters and hot summers, averaging 300 sunny days a year.
April, May, June, September and October are lovely months, with temperatures around 20 degrees (70° F), and are great for walking and cycling. High summer, July and August, is generally hot, reaching the mid 30s (90° F) and is the perfect time for sea lovers to enjoy sea experiences like boating, kayaking and snorkeling. November, December, January, February and March see temperatures hovering around 12 degrees (50° F).
HOW TO GET TO PUGLIA
Puglia is closer than you think and is waiting for you!
You can easily reach Puglia from any major European capital, with direct flights to Bari and Brindisi airports, whereas those coming from farther away, like The USA and Australia, generally only require one layover.
There are also several boat and ferry options. The ports of Bari and Brindisi are favourite stops for cruise lines and ferries which provide regular services to Greece, Albania, Montenegro and Croatia.
If you are already in Italy, you can reach Puglia with high-speed trains or by car following the main highways.